Technology
Our Approach to Technology
Technology is the foundation of our business. Axalta has been at the forefront of coatings technology for more than 150 years, developing innovative coating systems that protect, increase productivity, and offer beautiful color to our customers.
Axalta's long-term success as a company is rooted in providing our customers with next-generation products and services. The end markets that Axalta serves are among the most demanding in the coatings industry, requiring high levels of product performance, with increasing expectations for productivity and environmentally responsible products. Axalta is driving change in coatings innovation and aligning our technology efforts to meet these high expectations.
Our Technology Strategy
Our cutting-edge research and development activities begin with identifying the next generation of product innovations, based on an understanding of our customers and their consumers, regulatory requirements, and sustainability priorities that drive the need for new products and services. These factors influence the need for product enhancements and new coating products and systems, which initiate product research and development. We manage technology development by using a rigorous and disciplined stage-gate process from inception to product launch. This investment in a global, cross-functional approach for new product developments and modifications to existing products improves the breadth and depth of our technology portfolio. At year-end 2019, we had a portfolio of approximately 750 issued patents, 182 pending patent applications, and more than 400 trademarks.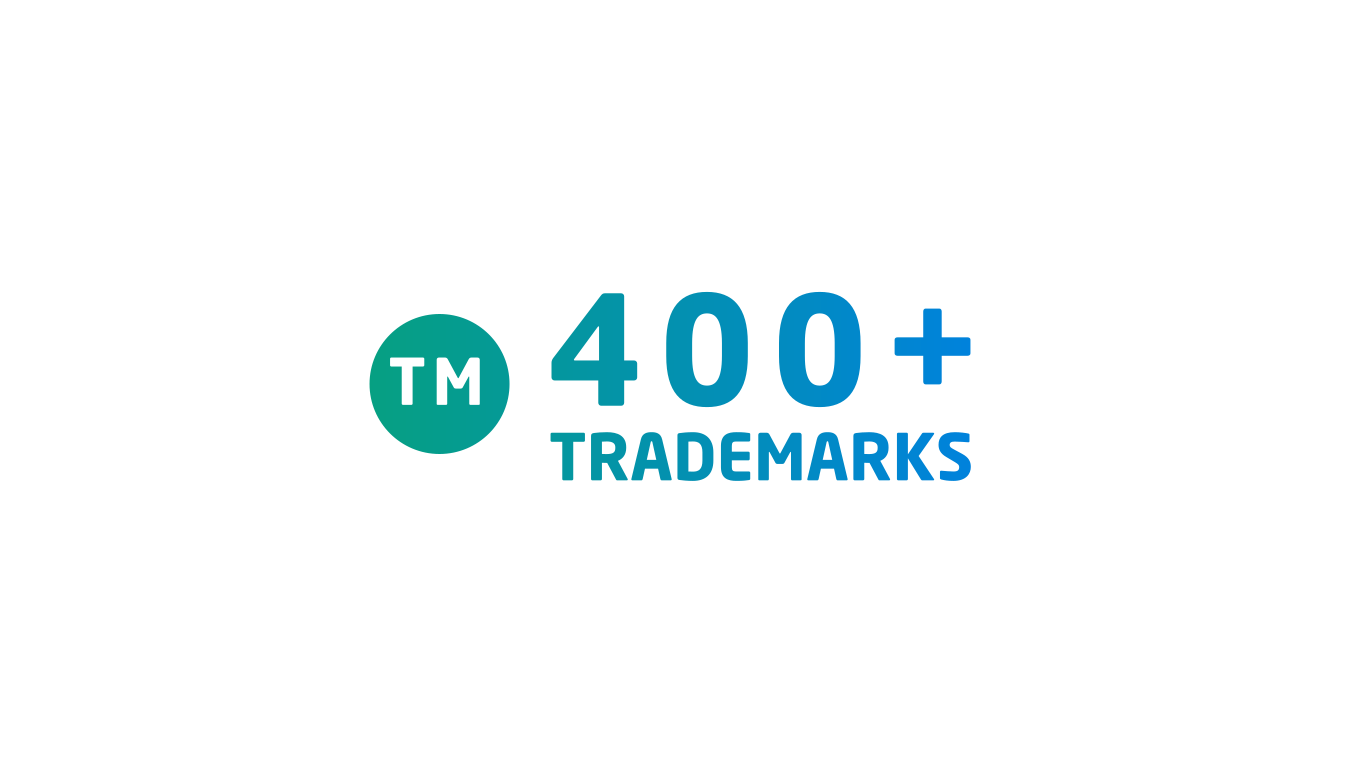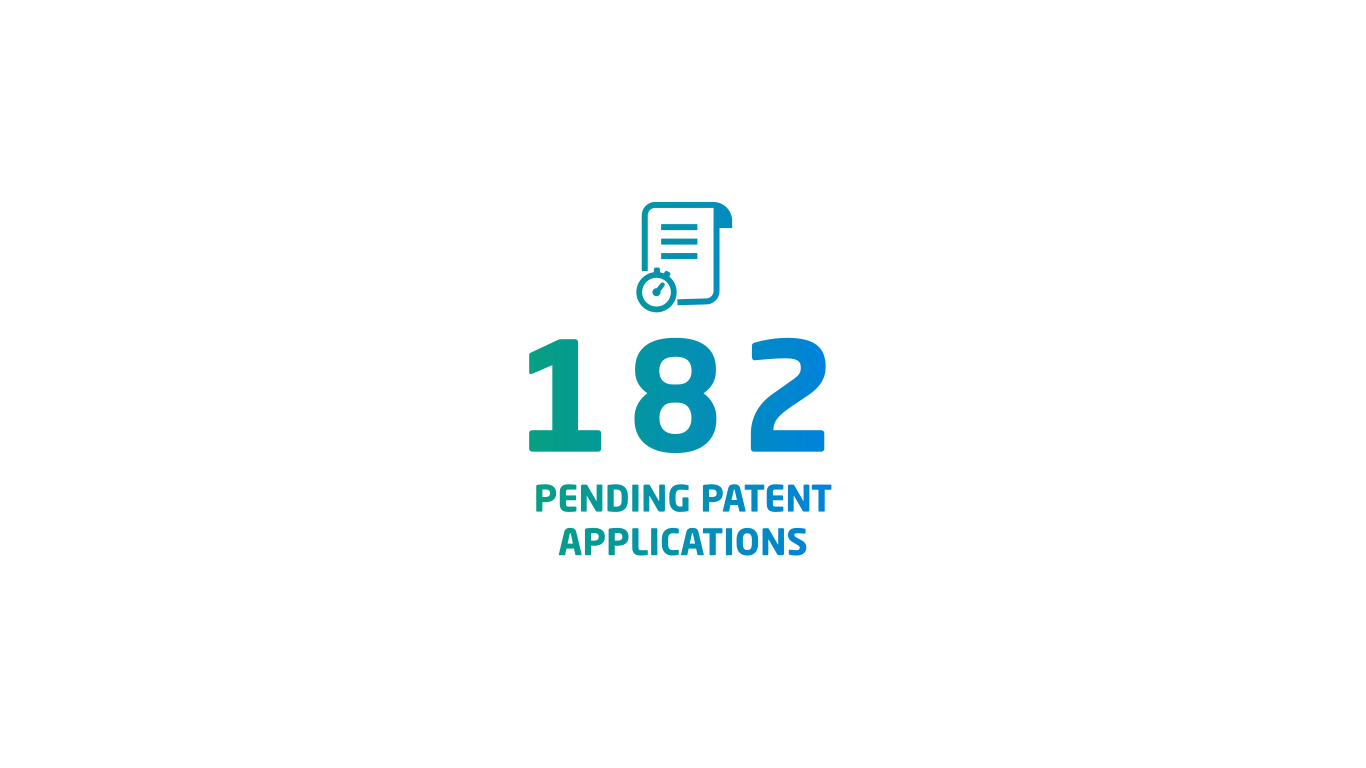 Axalta continues to be a leader in developing products with reduced environmental and toxicity footprints such as waterborne liquid coatings, and liquid and powder coatings that have low-to-zero emissions of volatile organic compounds (VOCs) and hazardous air pollutants (HAPs). Our approach is dictated by customer preferences, existing and emerging regulatory controls on hazardous materials, and our own commitments to produce more environmentally responsible coatings.
Investing in Technology
Our technology development is led by a highly experienced team of approximately 1,400 people globally that is focused on new product development, color development, technical customer support, and improving our manufacturing processes. We operate four major technology centers—in Philadelphia, Pennsylvania; Mount Clemens, Michigan; Wuppertal, Germany; and Shanghai, China—to support our research and development activities, with approximately 30 regional labs that support these activities tailored to local markets and customers.
We were proud to open our Global Innovation Center in November 2018, the largest color and coatings research and development center in the world. This 175,000 square foot facility in the Philadelphia Navy Yard is now the central hub for our global research, product development, and technology initiatives. Whether in color technology, polymer and formulation chemistry, or application knowledge, the world-class capabilities and talent at Axalta's Global Innovation Center will fuel new products and deliver the solutions necessary for our customers to grow their businesses into the future.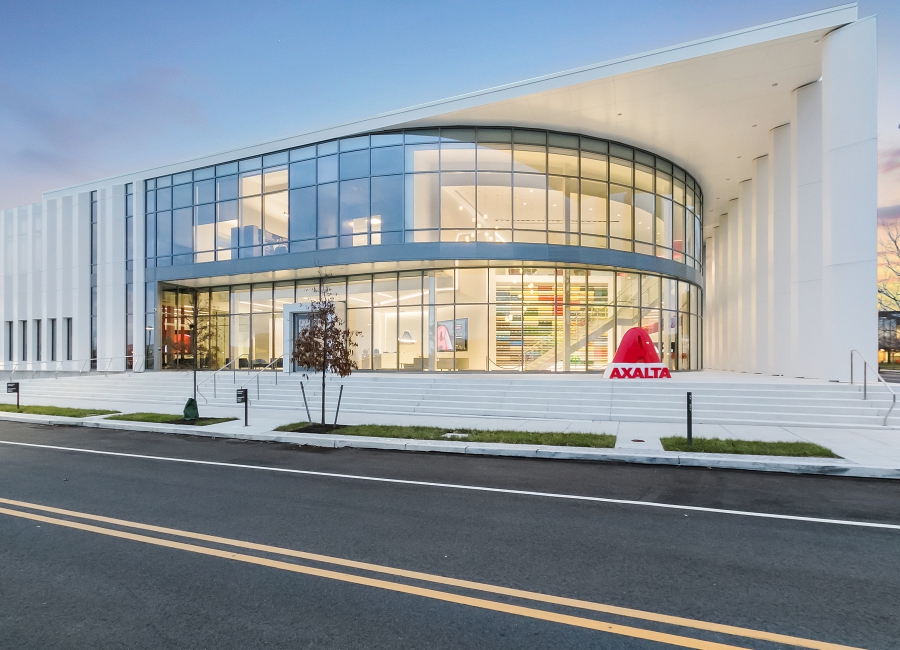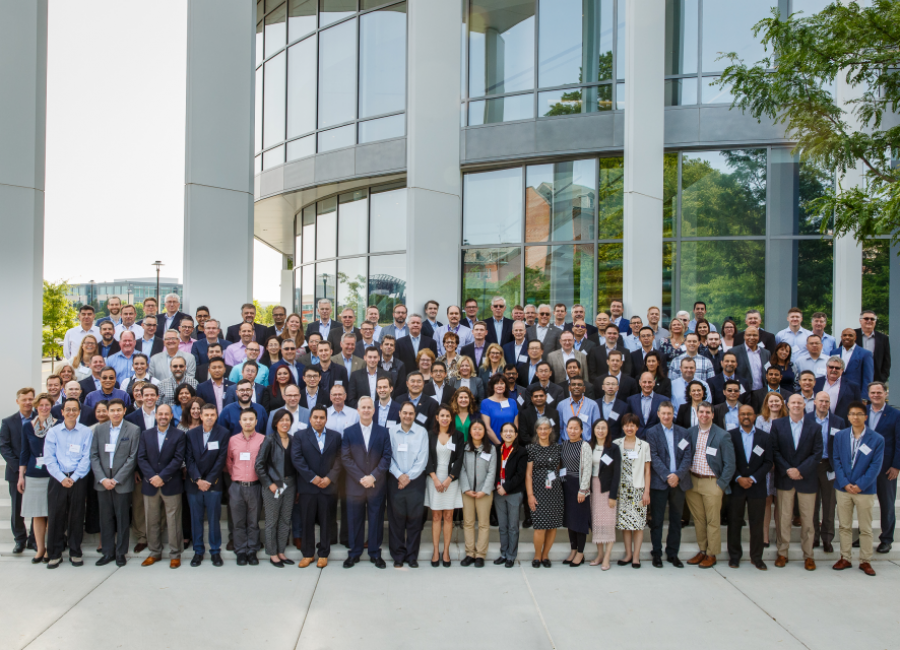 We continued to invest 4 percent of global sales back into technology over the past two years. The scope includes fundamental research and development to create new products as well as enhancements to existing products and customer support. We continued to introduce more than 250 new products in both 2018 and 2019, demonstrating our commitment to coatings innovation. Please see the Product Innovation and Process Innovation sections of this report for some highlights on our sustainable product, process, and service offerings.
Goal

Allocate more than 65 percent of technology spending through 2022 to develop products that are designed to result in sustainability benefits such as lower VOC emissions, reduced waste, and energy savings.

On track
Engaging Technology Stakeholders
In addition to the important research and development work we conduct internally, Axalta is involved in strategic partnerships with external organizations to further advance the science of color, application technologies, and sustainable coatings. Our scientists participate on academic and industry association technical committees, attend relevant technology and industry conferences, and deliver papers and technical presentations on technology in the coatings industry. This external engagement and technical leadership helps to advance our company's standing in the industry, leading to a stronger ability to recruit top talent in the highly competitive technology disciplines.
Axalta launched an annual Coatings Innovation Symposium, held at our Asia Pacific Technology Center in Shanghai, China, in 2018. Each year, the Symposium hosts customers, industry association representatives, academia, and employees to discuss key trends driving the coatings industry and advancing sustainability.
Engaging with leading universities to conduct collaborative research on coatings science is critical to our success. We partner with top-tier chemistry, materials science, and engineering programs at leading universities around the world. In Philadelphia, we continued the Axalta Distinguished Lectures Series with the University of Pennsylvania over the past two years, with the 28th installment occurring in November 2019. This longstanding program between Axalta and the Department of Chemistry of the School of Arts and Sciences at the University of Pennsylvania continues to advance the science of coatings.
For information about how Axalta invests in STEM education initiatives within our local communities, see the Axalta Bright Futures section of this report.