Corporate Governance
Ethics and Integrity
Since our inception, Axalta has maintained a strong commitment to operating with integrity and behaving ethically in everything we do.
The foundation of our ethical culture is the Axalta Code of Business Conduct and Ethics. Our Code, updated in 2019, outlines the expectations Axalta has of our employees, directors, and business partners around the world. The Code states our positions on topics such as complying with all applicable laws, avoiding conflicts of interest, acting as good citizens in our communities, managing corporate assets and proprietary information responsibly, and respecting our colleagues. We also have a suite of company policies that complement our Code that focus on topics such as anti-corruption, antitrust compliance, gifts and business entertainment, insider training, whistleblower protection and non-retaliation, among others.
Goal

Continuous improvement of compliance processes and procedures by modernizing the way we deliver training to employees on the Axalta Code of Business Conduct and Ethics, expanding our due diligence reach, requiring additional compliance certifications and supplier training.

On track
We provide training on our Code of Business Conduct and Ethics to all Axalta employees globally on an annual basis. This training is provided through online learning modules for our employees that are computer users, and via in-person training sessions for our employees that work in our manufacturing sites and warehouses. We've modernized our training and made it increasingly interactive to promote its effectiveness. We achieved a 99% completion percentage for this annual training in 2018 and 98% in 2019.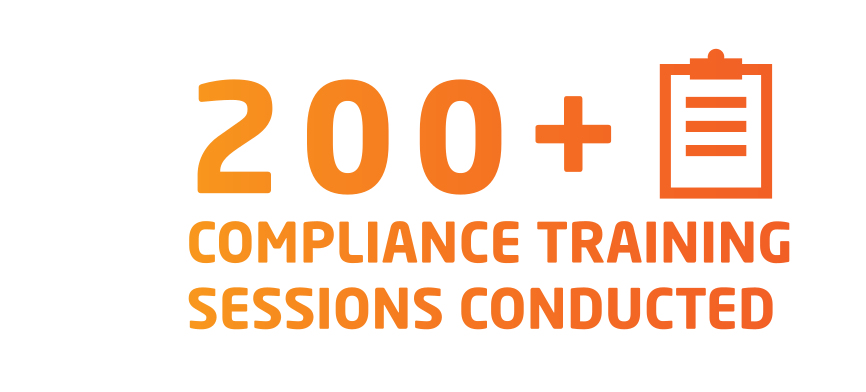 In addition to annual Code of Business Conduct and Ethics training, Axalta's Legal and Compliance team members around the world conduct targeted training sessions on a variety of compliance topics. We significantly expanded these efforts over the past two years, conducting 89 training sessions in 2018 and more than 100 in 2019. Topics ranged from conflicts of interest and trade compliance to antitrust and antidiscrimination, among many others. We also communicate guidance to all employees through our quarterly Guidepost newsletter, which provides a deep dive on an ethics topic with recommendations of what to watch for, how to respond, and scenario examples.
Axalta is committed to fostering an open reporting environment, where we encourage our employees to raise any issues or concerns. Our company maintains an ethics hotline where all employees and business partners may report potential ethics violations. Reports may be made via email, phone, fax or mail, and anonymously if desired. The contact information for the Axalta Ethics Hotline is included in our Code of Business Conduct and Ethics, which is publicly available on our website and accessible to all stakeholders. We also provide the information on our employee intranet and post it throughout Axalta sites. Axalta investigates all reports made through all channels, and does not tolerate any retaliation against employees for concerns raised in good faith.
Trade Compliance
As a multinational company that does business with suppliers and customers around the world, trade compliance is a key focus area of our compliance program. Over the past several years, Axalta has strengthened our trade compliance efforts globally. Our Global Trade Compliance team has experts in each region who support our Technology, Product Stewardship, and Operations teams in navigating the complex and evolving nature of trade regulations and requirements. We have a comprehensive suite of policies and procedures to ensure trade compliance in our operations, including our Global Trade Compliance Policy, which we updated in 2019. To ensure the quality and compliance of our import and export activities, the Global Trade Compliance team has established a transactional audit process that evaluates transactions on a rolling basis.