Sustainability Overview
About Axalta
Axalta is a leading global coatings company focused solely on providing customers with innovative, colorful, beautiful, and sustainable solutions.
With more than 150 years of experience in the coatings industry, the global Axalta team continues to find ways to better serve our more than 100,000 customers in 130 countries every day with the finest coatings, application systems, and technology. Our company vision is to be the preferred coatings partner for customers seeking the most innovative products and services, delivered by the most talented team in the industry.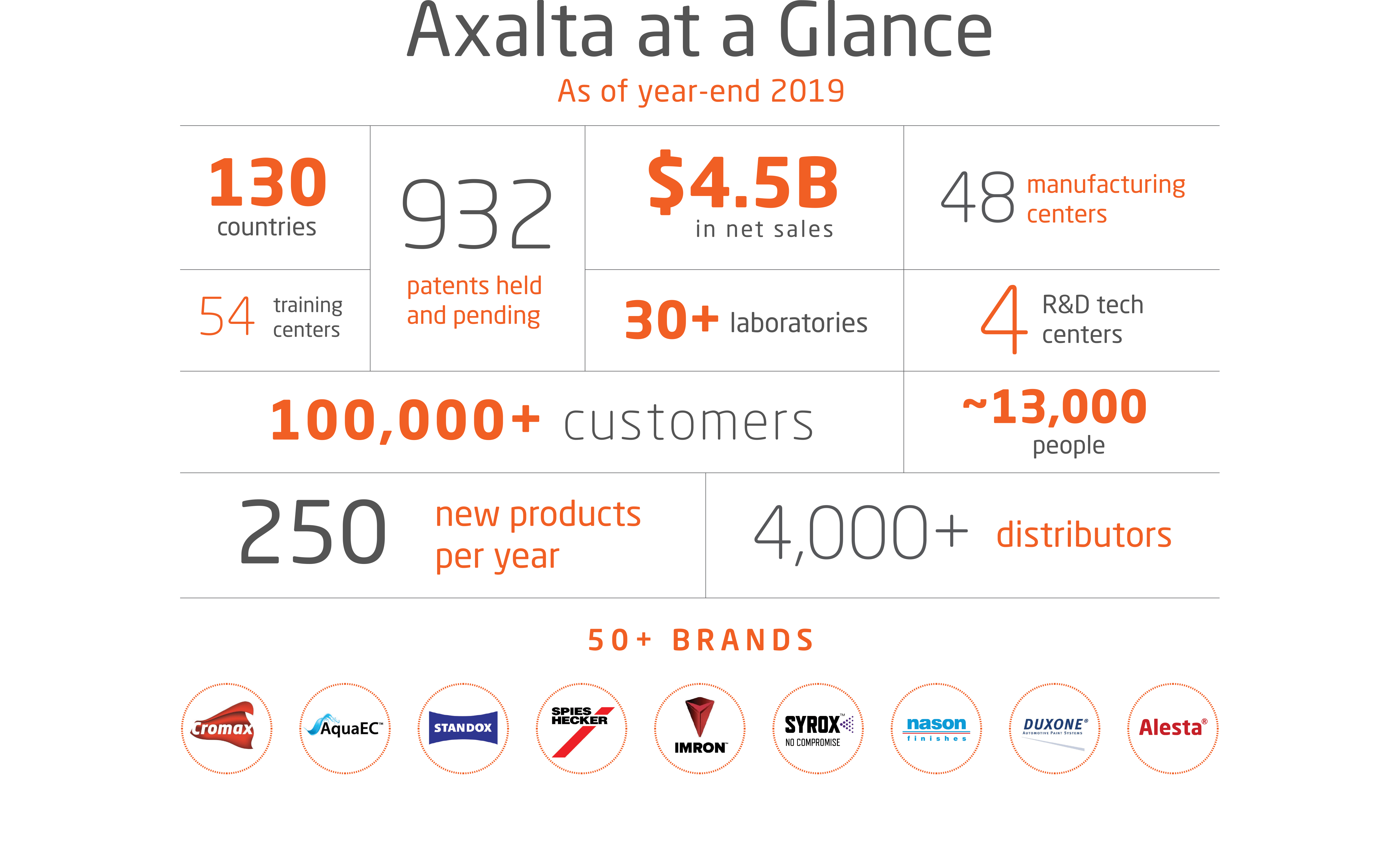 Markets, Customers, and Products
Axalta products and services are used in a wide variety of applications across many industries around the world.
Our transportation coatings are used in both the light vehicle and commercial vehicle end markets. Axalta delivers a full line of coating systems for original equipment manufacturers (OEMs) of cars and light trucks. From our electrocoats that provide superior corrosion protection to our lush basecoat colors and protective clear coats, our goal is to create a beautiful finish that will endure under the toughest weather and road conditions. We use leading color technology and design expertise to create colors that enable OEMs to provide car buyers with vibrant and beautiful choices year after year. Axalta continues to be a leading global supplier to light vehicle OEMs. For our commercial vehicle segment, we develop technology-driven coating solutions for medium- and heavy-duty trucks, trailers and utility trucks, buses, locomotives, high-speed trains, and other mass transit cars, providing maximum performance in the harshest environments. Axalta is the number one global supplier to the heavy-duty truck and bus segments.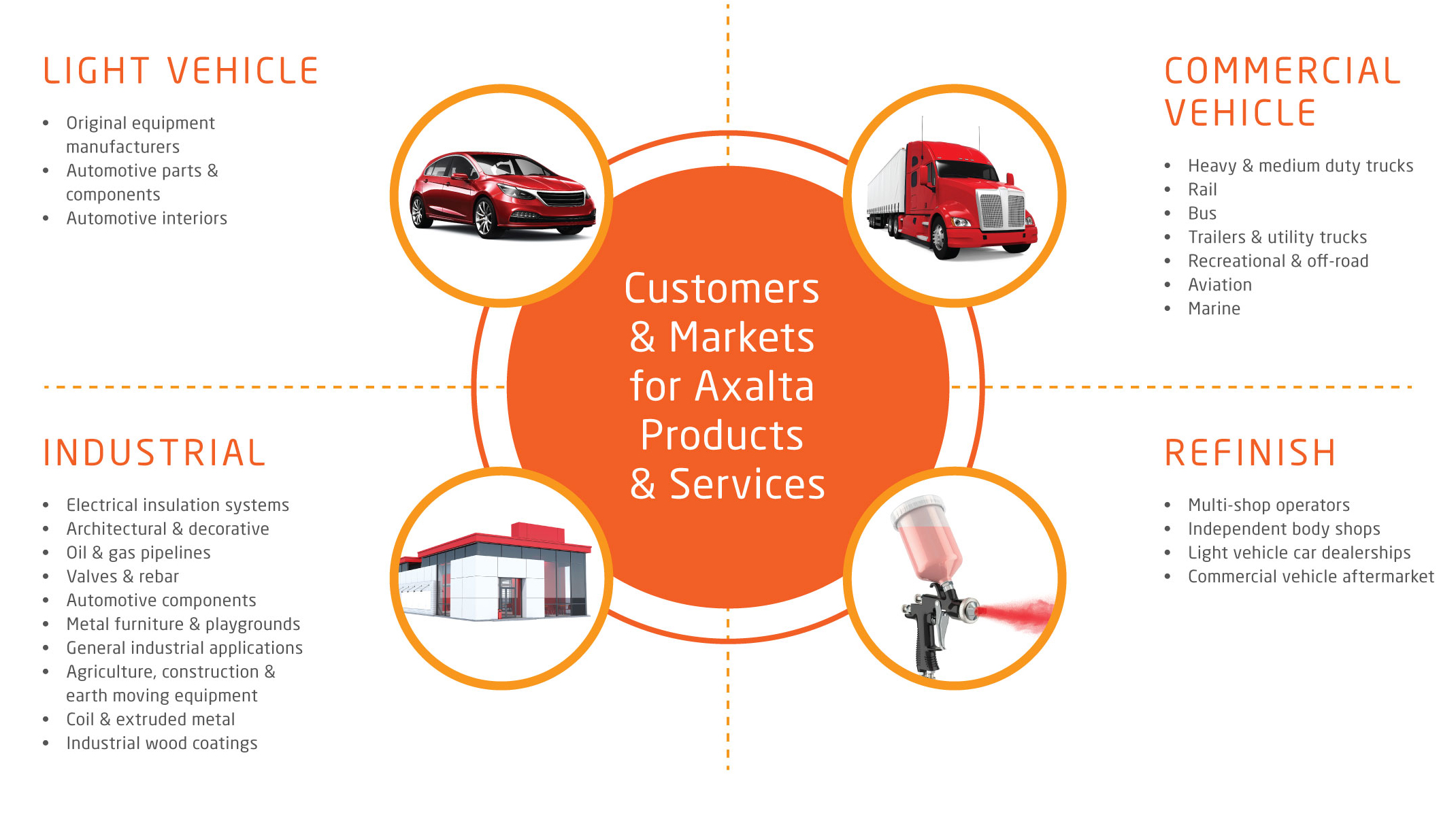 Axalta is a leading supplier of coatings for industrial applications, developing innovative high performance coatings to protect our customers' products against heat, light, corrosion, abrasion, and moisture. Our industrial business develops coating systems that include energy solutions and a wide range of liquid, powder, wood, and coil applications. We coat surfaces that touch everyday life, such as sports equipment, architectural structures and furniture, and construction, agriculture and earth-moving equipment. Axalta is the number two global powder coatings supplier and number two industrial wood coatings supplier in North America.
Axalta's refinish coatings are used in body shops around the world to make vehicles look like new. Through an array of paint colors and tints, color-matching technologies, and customer support, our products and services are able to help refinish technicians achieve perfect results. Our refinish products—ranging from surface preparation to undercoats, basecoats and high gloss clearcoats—are each formulated to meet the needs of body shops operating in different climates and coating different substrates such as metals, plastic, and the newest composite materials. Our leading refinish brands—Standox, Spies Hecker, and Cromax—are recognized in body shops around the world. Axalta is the number one global supplier to the refinish sector.
Please visit our corporate website for more information about our wide array of innovative products and services.
Acquisitions and New Sites
Axalta continued to grow over the past several years through new facilities, expansions, and acquisitions. These investments will allow us to increase production capacity of sustainable and high performance coatings, expand research and development activities, and reach more customers.
In 2018, we proudly opened our Global Innovation Center, located in the Philadelphia Navy Yard. This 175,000 square foot facility is the largest coatings research and development center in the world, and is supporting our technology and research efforts globally. Please see the Our Approach to Technology section of this report for more information. We also expanded our Savli, India manufacturing plant, which now has double the capacity to produce environmentally responsible coatings for the transportation and industrial segments.
Also in 2018, Axalta acquired a state-of-the-art manufacturing and distribution site in Sacramento, California. This 150,000 square foot facility has production capacity of more than 15 million gallons and is serving our Wood customers and will, over time, also support our Industrial and Refinish customers on the west coast of the United States. We also continued our investment in our Wood business by opening a new 56,000 square foot facility in Fridley, Minnesota. This new site is used for research and development, focused application work for our Wood business, and warehousing and coatings production.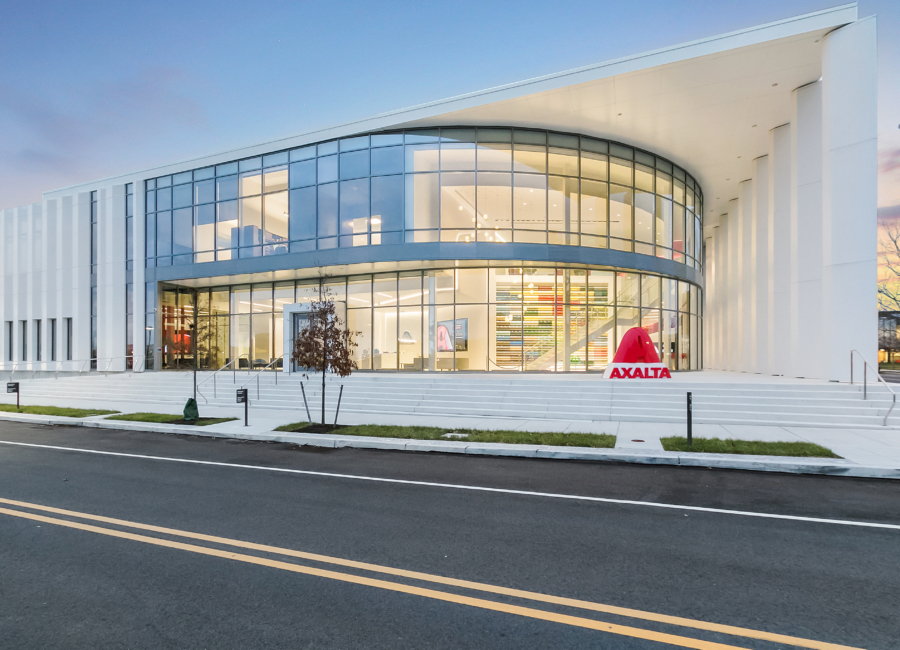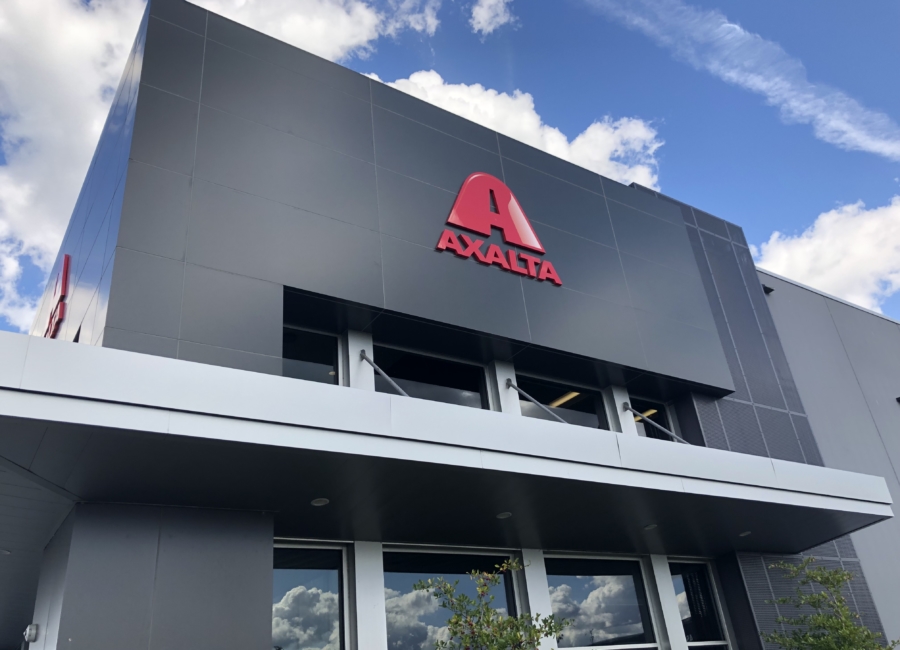 In 2019, we opened a new multifunctional facility in Western Sydney, Australia, which houses regional corporate offices, a customer training facility, and a warehouse and distribution center. Our Refinish, Industrial, and Transportation businesses are all represented in this facility to better serve our customers. We also opened customer training centers in Pomona, California; Manesar, India; and Midrand, South Africa. Lastly, we acquired Capital Paints, a powder coatings manufacturer in the United Arab Emirates, and a powder coatings manufacturing site in Turkey, both of which will allow us to expand the reach of our sustainable powder coatings in the Middle East and North Africa region.
Goal

Deliver on opportunities to sell sustainable products with reduced environmental impact in emerging markets.

On track