People
Our Approach to People
Axalta's people around the world are our biggest asset. We are committed to keeping them safe, developing their careers at our company, and fostering a diverse workforce.
At Axalta, we are driven by our shared values. Our values guide our business and form the foundation for the behaviors that we expect all employees to exhibit every day. From our manufacturing employees, scientists, and color experts to our sales managers and senior leaders, the Axalta team is collectively working to achieve our company vision: to be the preferred coatings partner for customers seeking the most innovative products and services, delivered by the most talented team in the industry.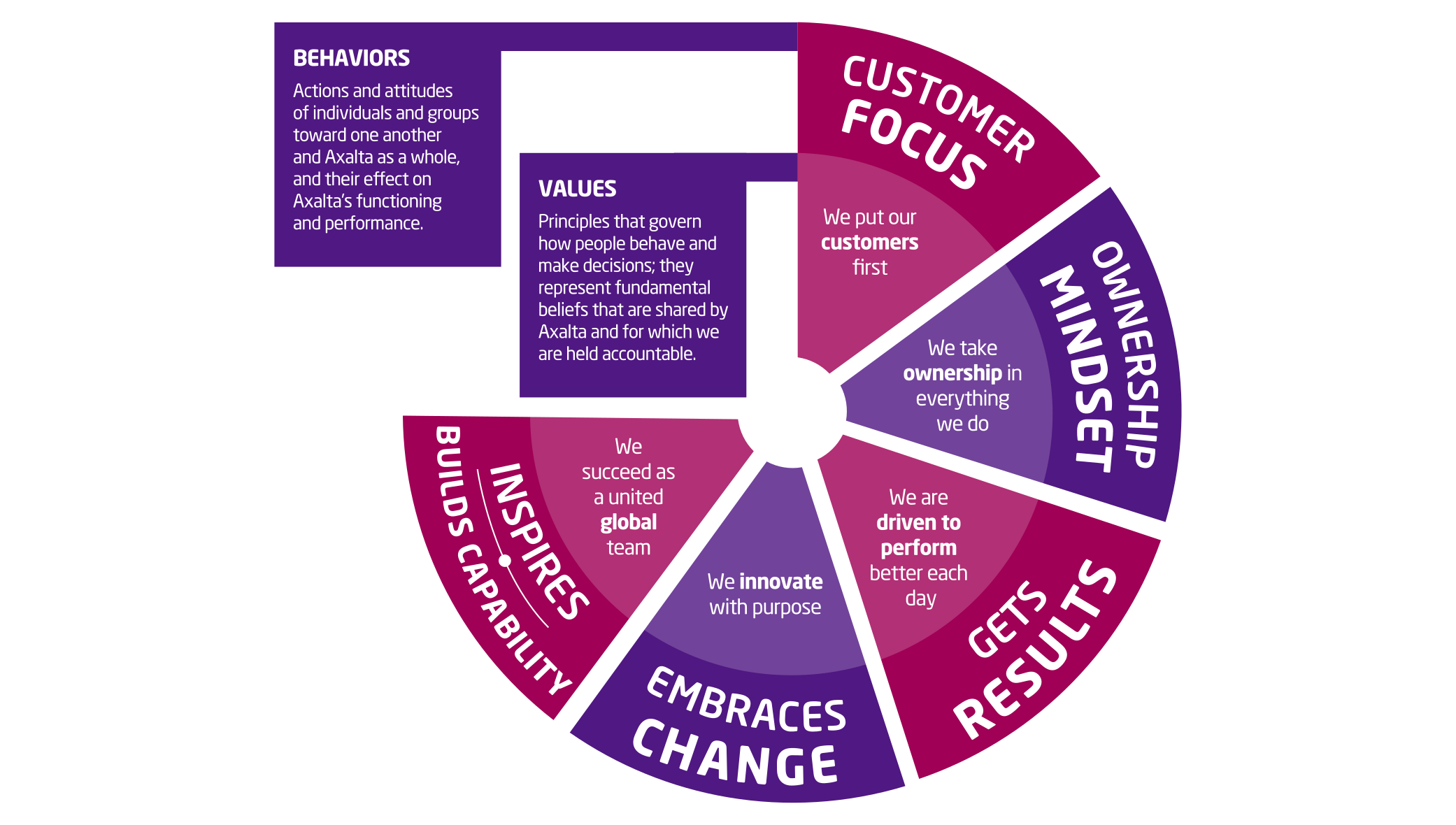 Axalta's top priority is keeping our employees, as well as contractors, visitors, and communities, safe and healthy. Our Environment, Health and Safety Policy outlines our commitment to safe operations, while our new Driving Perfect Performance slogan has our global workforce striving for perfect safety in everything we do.
In addition to our safety and wellness commitment, Axalta is striving to be a top employer, providing ample development opportunities as well as unique and challenging experiences to our employees so they can continue to learn and grow throughout their careers. As we continue to grow and identify the need for additional expertise, we recruit top talent from universities and industry. Continuing to strengthen Axalta's inclusive culture and increasing the diversity of our workforce at all levels is an important focus area for the company.
Engaging with our employees is another important aspect of our approach to being a top employer. We significantly expanded our employee engagement efforts over the past two years, establishing additional internal communication platforms, hosting global and regional town halls, and recognizing our employees for their efforts through the Axalta Way Awards program.
Outside of our fence line, we are dedicated to being a good neighbor and corporate citizen in the communities where our employees live, work, and raise their families. Our Axalta Bright Futures program comprises our global corporate social responsibility efforts focused on science, technology, engineering and math (STEM) education and environmental stewardship.