Operations
Energy and Emissions
Axalta is committed to reducing our energy consumption and emissions throughout our global operations to minimize our environmental footprint.
As a global manufacturer, we recognize that we must reduce our energy use and maximize efficiency in our operations. Compared with many other multinational chemical companies, Axalta typically has a smaller energy footprint. As a product formulator primarily, the majority of our manufacturing processes are blending rather than reactive, which require less energy. Our sites are nevertheless continuing to find ways to improve energy efficiency in our operations.
Energy
Our manufacturing and major laboratory locations track energy use at the site level. Energy efficiency and the associated savings is a key consideration in our capital projects approval process, where estimates of fuel and electricity savings, as well as cost savings, are required for all relevant capital expenditures at our sites.
Our direct energy use—the fuel used to generate energy on site—comes from natural gas, distillate fuel oil, and propane. In 2018 and 2019, Axalta used 1.2 million gigajoules (GJ) of direct energy, a 25 percent reduction compared with 2017. This reduction stems from energy efficiency projects and capital expenditures that improve our processes and replace older equipment with more efficient models.
Indirect energy consumption is from the energy we purchase and use at our facilities globally. This energy includes electricity and heat that we buy from utility providers. Our global indirect energy consumption has remained relatively flat over the past three years.
Goal

By year-end 2022, reduce energy use by 5 percent (normalized to production) from a baseline year of 2017.

On track
We use energy intensity as a metric to view our performance over time, accounting for changes in production due to market fluctuations or changes in our footprint due to newly opened, acquired, or closed sites. Our energy intensity is measured as GJ of direct and indirect energy per metric ton of production. While production has increased from 2017, our energy intensity has decreased due to our energy reduction efforts.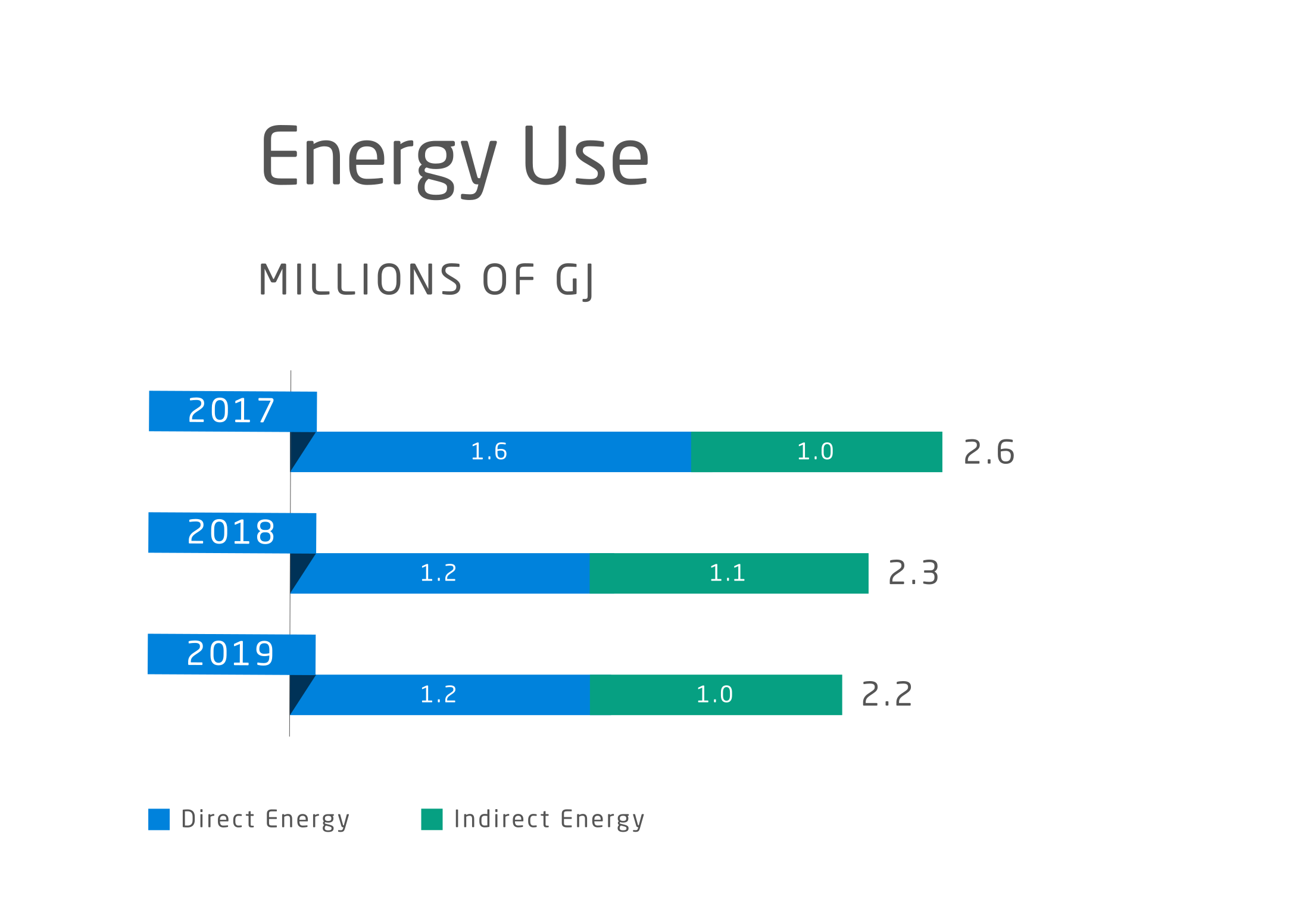 Our sites around the world continue to replace older, inefficient lighting fixtures with efficient LED lighting solutions. Nearly one third of our sites across all of our regions reported electricity savings through LED lighting upgrades over the past two years. For example, our Huntsville, Alabama coil coatings production site reduced electricity consumption by 840 GJ annually through converting from metal halide lighting to LED lighting.
Emissions
Our commitment to reducing our energy consumption goes hand-in-hand with our goal of reducing greenhouse gas (GHG) emissions from our operations. We continue to improve our internal processes for measuring and reporting this data at the site level. We are committed to reducing GHG emissions from our operations by implementing energy efficiency and fuel switching measures.
Goal

By year-end 2022, reduce Scope 1 and Scope 2 GHG emissions from operations by 5 percent (normalized to production) from a baseline year of 2017.

On track
Our direct (Scope 1) GHG emissions from our global operations in 2019 totaled 62,857 metric tons of carbon dioxide equivalents (CO2e), which is a 26 percent decrease from our Scope 1 emissions in 2017, due to fuel switching activities and improved energy efficiency. In 2019, our indirect GHG emissions (Scope 2) were 120,508 metric tons CO2e, a significant reduction from 2017. With electricity grids around the world becoming less carbon intensive, plus the divestment of several joint venture sites in China in 2019, we continue to see reductions in our Scope 2 GHG emissions. Additionally, our Guntramsdorf, Austria site recently worked with its electricity provider to ensure that all electricity for the site from 2019 through 2021 is generated by zero-carbon hydropower.
We calculate our GHG intensity to adjust for changes in production. In 2019, our GHG intensity was 0.2 metric tons of CO2e per metric ton of production, a reduction of approximately 50 percent compared with our 2017 GHG intensity. This progress is largely due to the reduction in Scope 2 emissions over the past two years.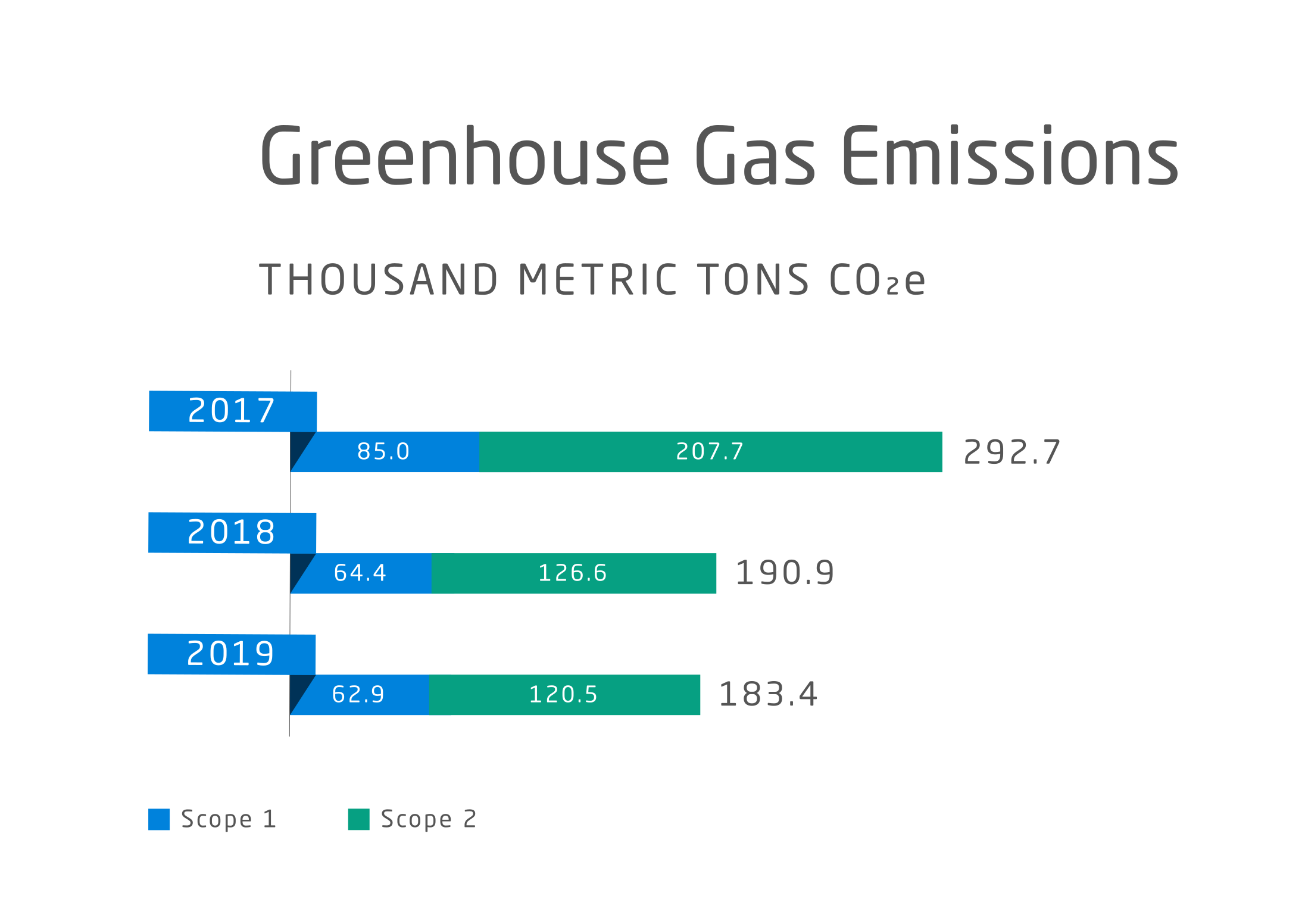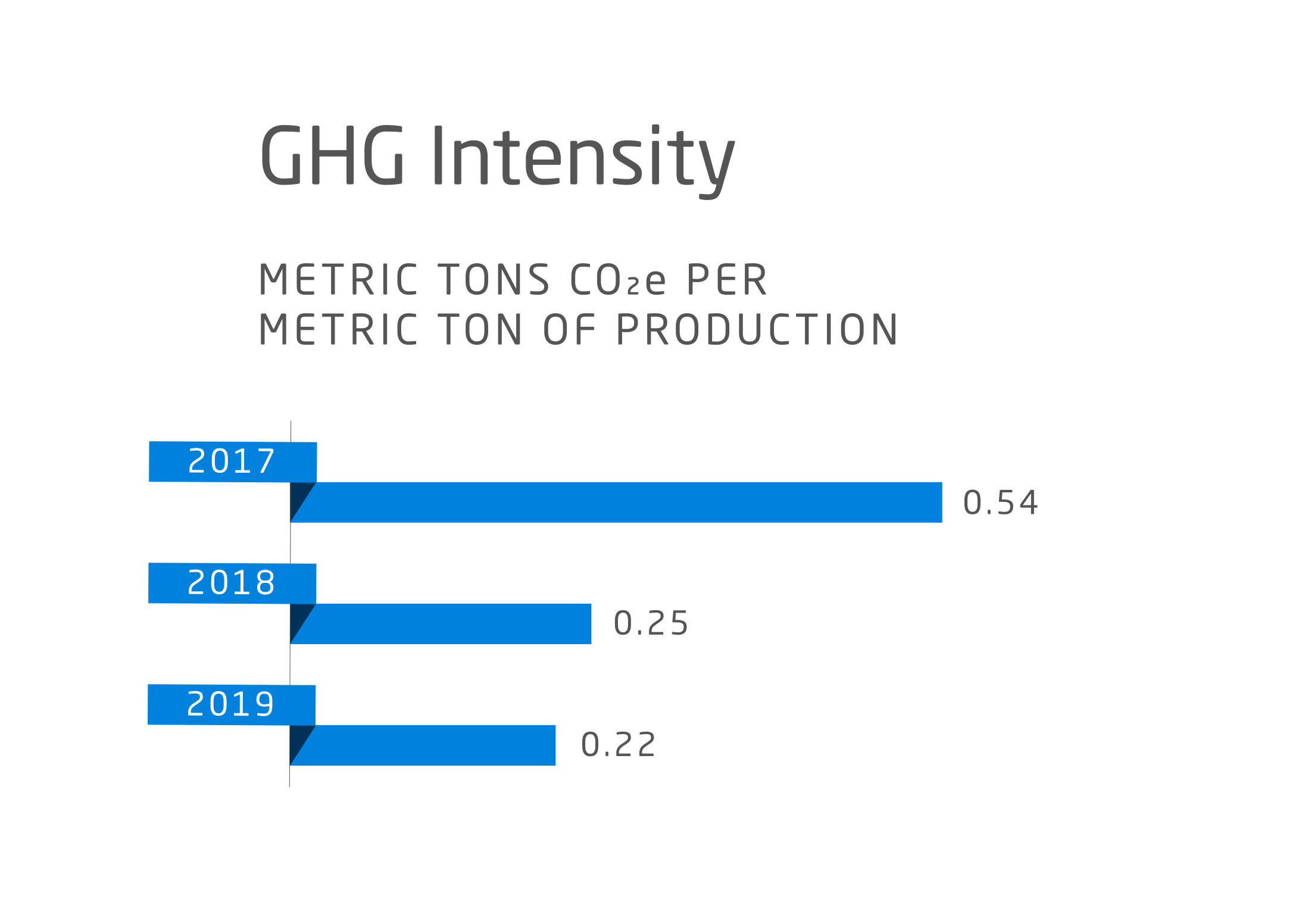 Each year, we respond to the CDP Climate Change survey; please visit the CDP website to access our annual responses that contain additional information about our energy use, GHG emissions, and approach to managing climate change risks.
In addition to reducing emissions of greenhouse gases, we are committed to doing the same for other air emissions from our operations. We monitor and report other air emissions, such as volatile organic compounds (VOC), nitrous oxides (NOx), sulfur oxides (SOx), and hazardous air pollutants (HAPs). These emissions arise from our processes and products.
Goal

By year-end 2022, reduce VOC emissions from operations by 3 percent (normalized to production) from a baseline year of 2017.

On track
Volatile organic compound emissions are the air emissions of highest focus for Axalta based on the types of raw materials we use for our products. We continued to reduce VOC emissions, as well as emissions of hazardous air pollutants, on both an absolute and normalized basis over the past two years. Many of the jurisdictions in which we operate continue to implement VOC limits from manufacturing operations; we carefully track these regulatory requirements and work to be in compliance with all applicable regulations. For information about how Axalta is reducing VOC emissions from products, see the Technology section of this report.
Over the past two years, our NOx and SOx emissions remained relatively flat. Our sites continue to monitor these emissions, improve data collection, and identify reduction measures. A number of our facilities have implemented upgrades to boilers used on site. These efforts have involved fuel switching, swapping out older equipment for new and more efficient equipment, and installing monitoring and control systems for the boilers. In addition to providing energy savings, these activities allow for significant reductions in air emissions, particularly NOx and SOx. For example, our Ocoyoacac, Mexico site transitioned its boilers from diesel fuel and liquid propane to natural gas in 2019. In just half a year, the site reduced NOx and SOx emissions by 34 percent and 46 percent, respectively, from 2018 levels. Similarly, our Jiading, China plant modified its boiler in 2018 to use natural gas instead of fuel oil and upgraded to an ultra-low NOx burner. These modifications achieved a 46 percent reduction in NOx emissions and cut SOx emissions by 99 percent to nearly zero in the first year.