Supply Chain
Supplier Engagement
Engaging on our values and commitment to sustainability is a key element of strengthening our relationships with our suppliers.
For our key suppliers, Axalta holds quarterly supplier relationship management meetings with leadership from both Axalta and the supplier. These meetings allow for two-way dialogue to review performance and address concerns in real time. Another benefit of our supplier relationship management program is that it allows for closer and more frequent collaboration on technology advancements and discussions about emerging issues. Beginning in 2019, sustainability was introduced as a discussion topic during a number of these meetings, as sustainability is a shared commitment among Axalta and many of our key suppliers. These connections allowed for the sustainability teams at Axalta and our suppliers to connect and proactively share priorities and best practices.
For the past four years, we have honored suppliers who demonstrate Axalta's values and a commitment to meeting specific quality, service, technology, and value criteria through our Supplier of the Year Awards. Suppliers that receive this award are dedicated to continuous improvement and strong performance in helping Axalta deliver value for our customers every day. Starting in 2017, our second year of the awards program, sustainability was added as a criterion for selection. All eligible suppliers are screened against sustainability criteria to ensure that they are committed to sustainability and ethical business conduct in alignment with our high expectations.
Award recipients are selected by Axalta's global Procurement team in collaboration with our business lines and Operations and Technology teams across our three regions. We bring these suppliers together each year so they can hear from Axalta's senior leadership, network with each other, and continue to strengthen their relationship with us.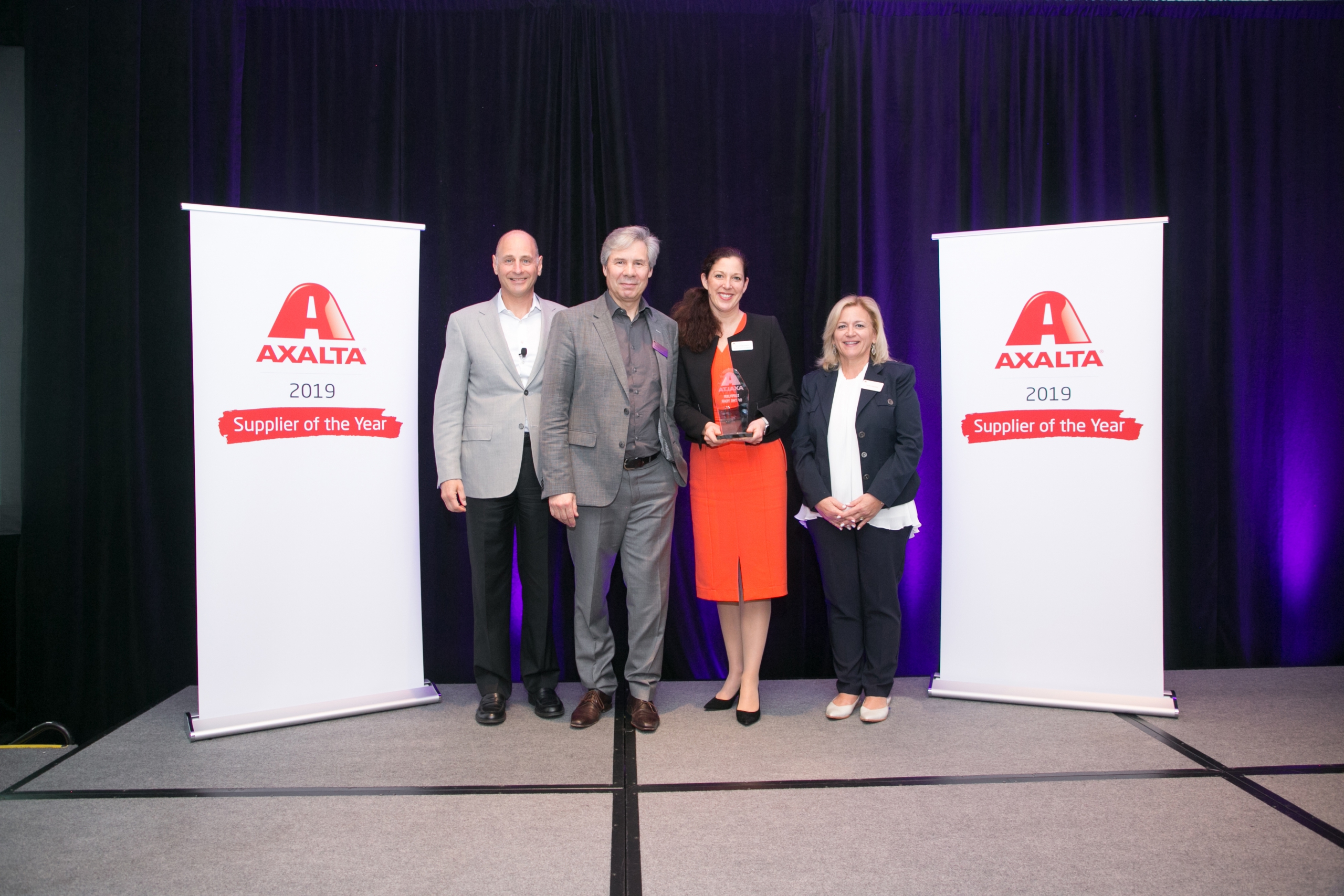 Supplier Diversity

In North America, Axalta is committed to increasing the pool of and our spend with qualified diverse suppliers, which includes businesses owned by minorities, veterans, disabled veterans, and women. A diverse supply chain benefits Axalta and more closely reflects the communities where we operate and serve our customers. From 2017 to 2019, we increased our spend with diverse suppliers by 35 percent.
Goal

Continue to identify and increase the number of qualified diverse suppliers to support Axalta's North American operations.

On track
We were honored to receive General Motors' Gold Level Supplier Diversity Award in 2019. This award was given to Axalta for exceeding the 8 percent diversity spend target for four consecutive quarters and for the most improvement in spend year over year.