Pressekontakt
---
Axalta Coating Systems GmbH
Uferstrasse 90
4057 Basel
Schweiz
DA Public Relations Ltd
Karolina Davison

Axaltas årlige rapport over populære bilfarver i 2018, viser at hvid stadig fører med hele 38 procent
---
Clinton Township, Michigan, USA - 16. januar 2019: Axalta (NYSE: AXTA) offentliggjorde i dag sin 66. årlige Global Automotive Color Popularity Report, der viser at hvid var forbrugernes førende farvevalg til biler verden over i 2018. Hvid vandt førstepladsen, med forbløffende 38 procent, med markant afstand ned til nummer to, sort (18%) og tredjepladsen, som blev delt mellem sølv og grå (12%).
Sorte og grå viste betydelige, regionale stigninger i visse områder. Sort steg fx i Kina (5%), Asien (3%), Sydkorea og Afrika (begge med 2%). Grå øgede i Afrika (3%) og Europa (2%).
"Vi ser en ny tendens mod varmere nuancer og farvekombinationer med sort, der udfordrer hvids førerposition," siger Nancy Lockhart, Axaltas Global Color Marketing Manager. "Selvom de neutrale farver stadig udgør hovedlinjerne, ser vi tegn på, at farverne kommer tilbage og ændrer billandskabet. Når vi ser bort fra de neutrale farver, er blå den mest populære, med hele syv procent af markedet, lige som vi ser stigninger og større interesse for orange og bronze."
Regionale højdepunkter fra 2018-rapporten omfatter:
Asien: Selv med et fald på 1 procent, er gul/guld stadig mest populære i Indien og Kina ift. verden. Blå relanceres som en økologisk venlig nuance i Japan, og i Korea steg sort med to procent.
Europa: Europa oplever en stigende tendens for farven grå, med en stigning på to procent.
Nordamerika: Brun/beige oplevede en stigning på to procent i forhold til året før, hvilket er den største stigning for nogen region.
Rusland: Den mest populære region mht. brun/beige på ni procent. Kina følger Rusland med syv procent.
Sydamerika: Rødt faldt en procent, ned til otte, hvilket gør at regionen ligger lige efter Nordamerika (9%).
Sydafrika: Orange så en stigning fra 2017, og 3,6 procent af alle køretøjer ligger i kategorien "Andre".
Axaltas rapport kom første gang i 1953 og er bilindustriens længst løbende og mest omfattende farveoversigt. Rapporten udfærdiges og designes af Axaltas globale farveeksperter og giver bilproducenterne fantastisk indsigt i forbrugernes præferencer og hjælper dem med at træffe velinformerede beslutninger om bilfarver.
Ifølge Annie You, Axaltas OEM Color Designer for Kina, værdsætter Axaltas kunder årsrapporten og nogle af de undervurderede tendenser, den viser. "I Kina kan hvid have nået toppen i 2017 på 62 procent," fortæller hun. "I år ligger den på 58 procent, som stadig er langt over enhver anden region."
Elke Dirks, Axalta OEM Color Designer for Europa, Mellemøsten, Afrika, peger på en regional præference for grå. "For første gang i rapportens historie, ligger grå nummer to i regionen, hvilket gør den til en vigtig spiller i det neutrale område," nævner hun.
Om Axalta
Axalta er en førende global virksomhed, der udelukkende fokuserer på lakker og at give kunder innovative, farverige, smukke og bæredygtige løsninger. Lige fra mindre OEM-køretøjer, erhvervskøretøjer og reparationslakeringer til elektriske motorer, bygninger og rørledninger, er vores lakker designet til at forhindre korrosion, øge produktiviteten, og at få de materialer, vi dækker, til at holde længere. Takket være mere end 150 års erfaring inden for lakindustrien, fortsætter de 14.000 mennesker i Axalta med at finde nye måder at servicere vores mere end 100.000 kunder i 130 lande bedre og bedre på hver eneste dag med de fineste lakker, påføringsystemer og teknologier. Få mere at vide på axalta.dk og følg os @Axalta på Twitter og på LinkedIn.
Europe Automotive Color Popularity
---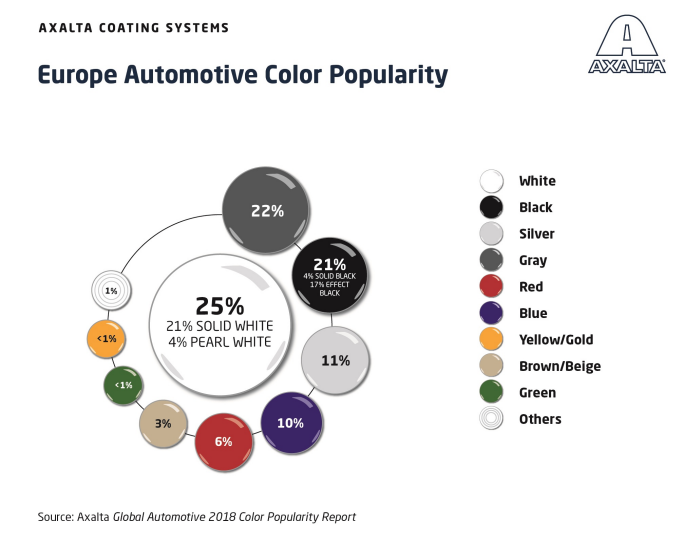 Global Automotive Color Popularity
---
Global Automotive 2018 Color Popularity Report